QSO's Offset Well Monitoring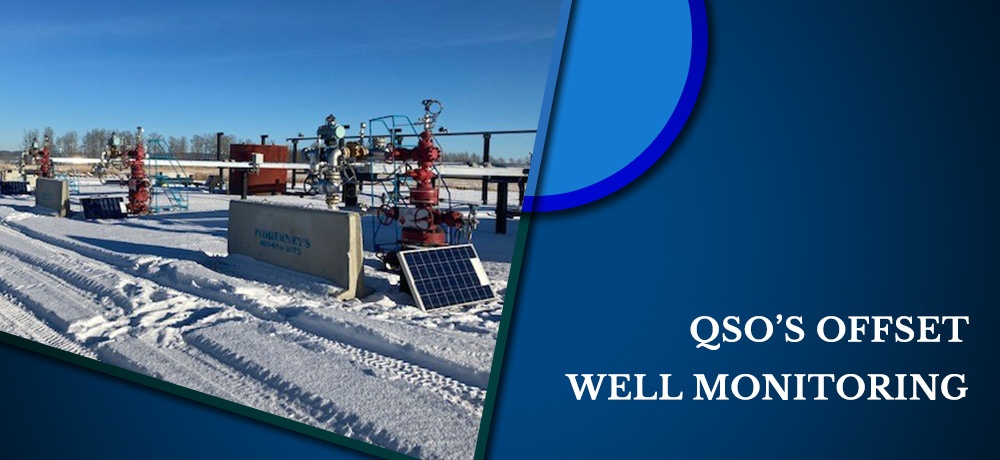 Usually, offset wells do not have the required infrastructure or instruments installed to monitor the pressure in real-time and to record accurate pressure data. With the appropriate equipment in place, operators can take quick action in the event of unusual pressure changes. For this reason, acquiring offset well monitoring is essential. This process utilizes equipment that provides real-time telemetry units and pressure sensors, so clients have live pressure data on nearby wellbores during the hydraulic fracturing process.
When engaging in hydraulic fracturing, neighboring wellbores are put at risk of inter-wellbore communication. QSO's offset well monitoring service provides real-time pressure data, complete with email and SMS alarms to monitor at-risk wells from wellbore damage and potential environmental damage, should communication occur.
The Alberta Energy Regulator has implemented Directive 83, making oil and gas companies that are completing the well accountable for inter-wellbore communication. That makes QSO's offset well monitoring a valuable service to any oil and gas company involved in hydraulically fracturing a well. We deliver real-time data for the frac operations to monitor pressure changes and respond accordingly in the event of communication.
Through our offset well monitoring service, we aim to go above and beyond our clients' expectations by providing exceptional field and admin service during the completion process. Third-party operators require permits and organization before the installation. We at QSO work hard to ensure all those extra steps are looked after, enabling the client and the completion teams to focus on the pre frac tasks. Post frac data provides the client with proof of compliance as well as valuable data for future fracturing projects in the area.
How to avail of our services?
QSO, with its sister company Quick Silver Wireline, provides clients with bases in Grande Prairie, Drayton Valley, Red Deer, and Brooks. Gas and oil companies can reach out to us at (403) 346-6167 or email us at mail@quicksilverwireline.com with their requirements and project details.
We have extensive experience as a slickline and wireline company and have been operating 24/7, three-hundred and sixty-five days a year since 2001. One of our greatest feats was surviving industry downturns and being able to provide continued services to clients with our top-shelf personnel and equipment. We do not take our jobs and reputation for granted and continually strive to be the best wireline company in Canada. We are always training, often hiring, and try to retain our best staff as they are the key to dependable and cost-effective services.
Alternatives to QSO's offset well monitoring service would be fixed, real-time monitoring solutions, manning all at-risk locations during the frac, which would be quite costly. If clients want to stay within budget and avoid environmental damage, we have the solution they need. While offset well monitoring for fracturing operations is the main use for this service, any need for live pressure monitoring can be fulfilled by QSO's service program.
To learn more about our services, please click here, or get in touch with us by clicking here.
---
---